An Insider's Look: The Venice Simplon-Orient-Express to Venice
By Railbookers
Monday, October 5, 2020
Read time: 4 minutes
There are some train journeys that carry a certain reputation before them, but arguably none have the reputation for glamour, style and sophistication of the Venice Simplon-Orient-Express to Venice.
An Insider's Look Back to an Iconic Railbooker's Holiday
There are some train journeys that carry a certain reputation before them, but arguably none have the reputation for glamour, style, and sophistication of the Venice Simplon-Orient-Express to Venice.
Anticipation was certainly in the air as Gareth and I arrived at London Victoria, suited and booted, ready to begin the trip. We were immediately amused to see a Dutch couple waiting to check-in clad in denim – we were sure a quiet word would ensue and we were not disappointed. The passengers performed a quick change, almost worthy of a West End musical. After waving goodbye to our luggage we began to board the British Pullman, where we were met by the liveried stewards and assisted on board. After taking our places in a carriage named "Ibis" (all are individually named) we began to admire the period detail of the train. The regal carpets, woven brass luggage racks, and mahogany glass-panelled doors to silken lampshades and velour tapestry armchairs all take you back to the so-called golden age of travel. Soon our steward arrived with the welcome offer of a champagne apéritif, which we were delighted to accept. Soon we had left London behind us and we were heading through the Kentish countryside to Folkestone.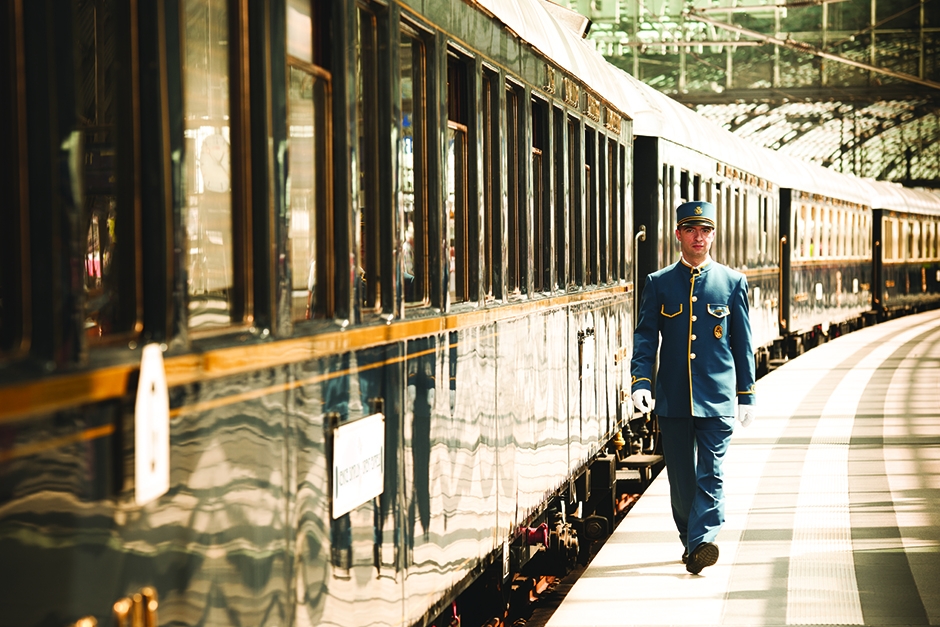 En route, we were served lunch which started with a cold soup which was strawberry combined with champagne. This was soon followed by a hearty main meal accompanied by a glass or two of wine and in no time at all, we had reached Folkestone.
Due to its age, the train does not pass through the Channel Tunnel. Instead, you take a luxury coach through the tunnel with Eurotunnel and are dropped off at the station in Calais, where the gleaming blue and gold carriages of the Venice Simplon-Orient Express await. Once again, we were wished good afternoon by our steward and shown to our 1920s' style cabin to settle in and dress for dinner. Dinner is served as the train passes through the French countryside. Partly because we were already quite full after lunch, we decided to opt for the second sitting. After relaxing in our cabin, and operating the fan we decided to enjoy a pre-dinner drink in the glamorous piano bar.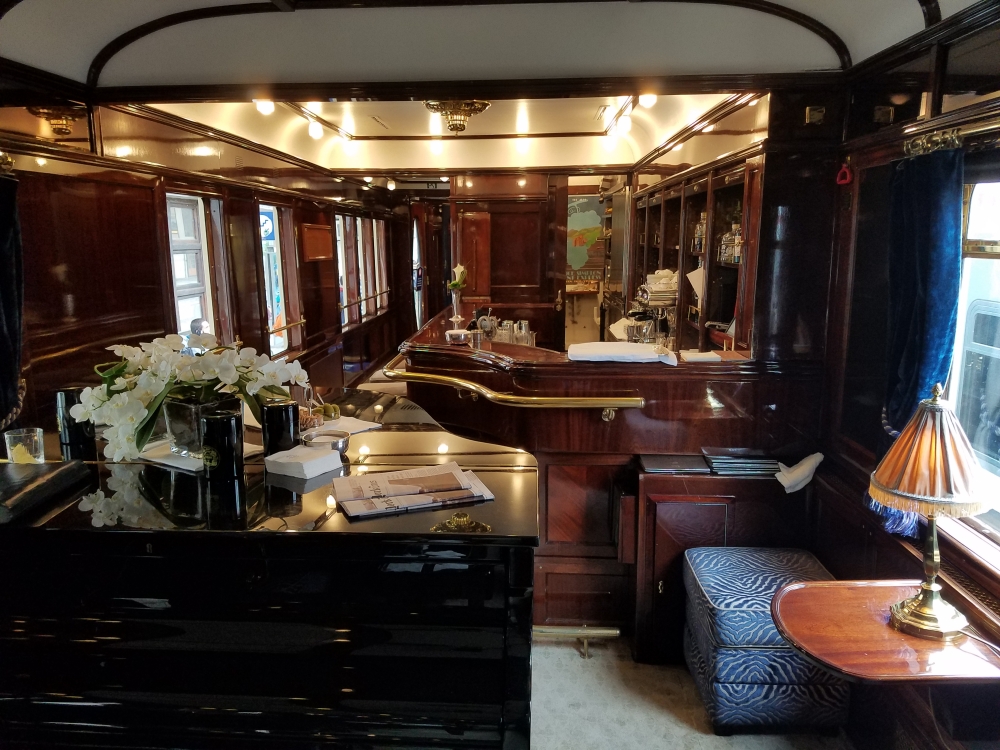 By evening our appetites had returned and we enjoyed a four-course evening meal in the opulent surroundings of one of the two restaurant cars. We were amused as the train arrived in the less than a salubrious environment of Paris Gare de l'Est station, where other people waiting on their evening departures were gaping at our arrival. You just don't get that waiting for the 12:24 to Strasbourg I suppose. After dinner, we retired to our cabin, where Gareth was soon excitedly trying on his Venice Simplon-Orient-Express slippers. The next morning we were greeted by the stunning alpine scenery of Switzerland. Our steward soon arrived with a light breakfast as we headed onwards towards Austria. As the train stopped in Innsbruck we took the opportunity to pose for some pictures boarding and disembarking the famous train. As we headed towards northern Italy it was time to eat yet again, with lunch being served as we crossed the Italian border, accompanied to my great delight by a fantastic and tasty cheese board. As we left Verona we both left our cabin, eagerly anticipating the first signs of land meeting water, and soon the first signs of the Venice lagoon appeared, with the merest glimpse of St Mark's Square in the distance. In no time at all, we had arrived at Santa Lucia station, and after a short wait, we were reunited with our luggage. One essential in Venice is to arrange a private transfer in advance (there is very limited space for water taxis in front of the station, and pre-booked clients take priority) and this is also a fantastic introduction to this spectacular destination.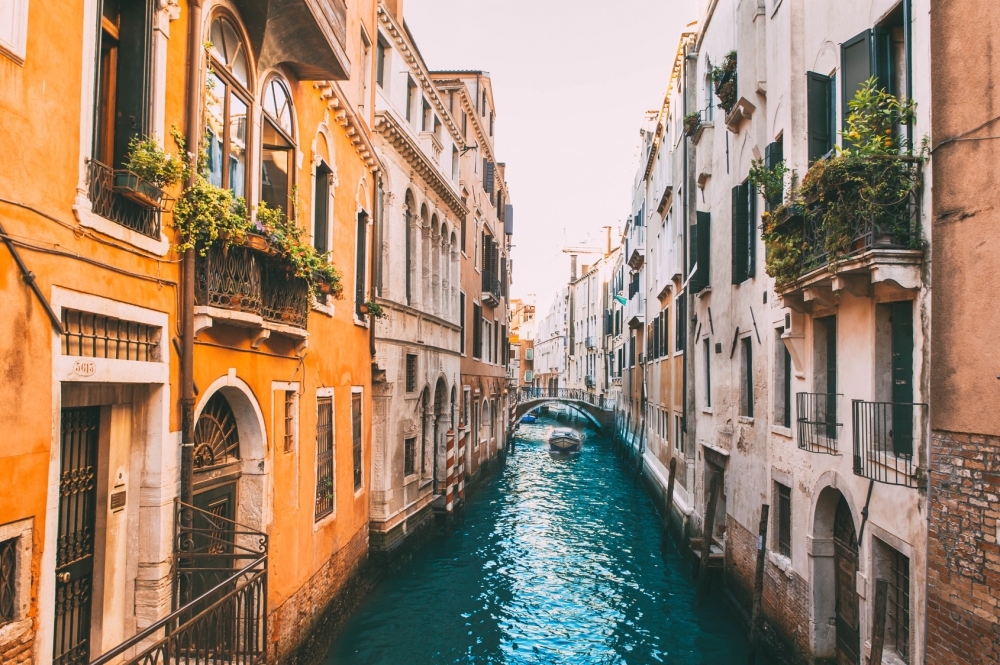 We were soon met by our transfer representative, and with cameras at the ready, we were transported into a world of canals and gondoliers. Rialto Bridge came and went, as we travelled along the Grand Canal, crossed over the lagoon, and arrived at the docking bay of the Bauer Palladio Hotel on Giudecca Island, a haven of tranquillity away from the crowds we had briefly glimpsed on St Mark's. As the sun began to set and yet another photo opportunity presented itself, we began to reflect on a truly luxurious journey that will live long in the memory. The author himself - our own Rail Expert, Matt, exhausted from his fun adventures on the train...we know because we go!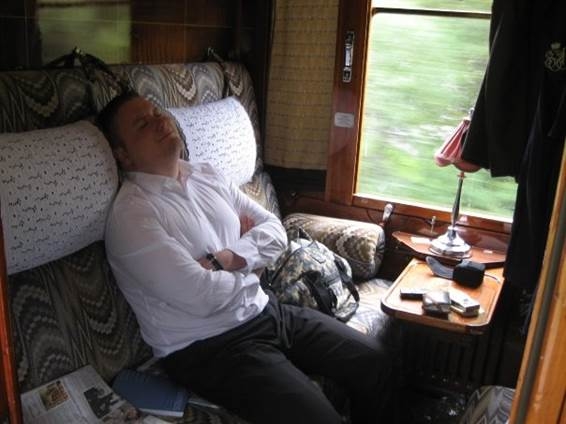 Want more? Sign up for one of our free webinar presentations, or download your own Route Map of the EU.